Autumn Equinox Yoga & Cooking Class at Cornelio Candelaria Organics
September 22, 2021 @ 5:30 pm

-

8:00 pm

MDT

$50.00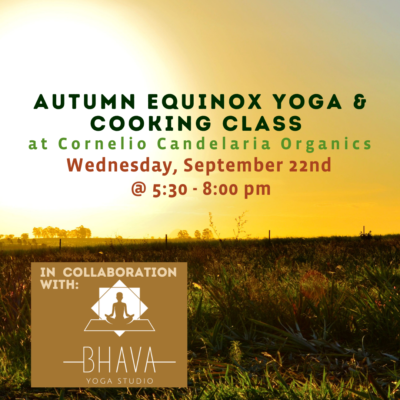 What the experience includes:
First the wonderful Marisol from Bhava Yoga will lead us through a yoga flow to connect to the sensation of taste, while stretching to wake up the digestive system.
Then we'll celebrate the autumn equinox by cooking a meal with the abundance of the harvest season!
Our cooking classes are a one-of-a-kind experience. We'll break into stations, where each group will follow a recipe that will teach them how to incorporate seasonal produce into nutritious and delicious meals. You will receive any nutrition education & recipes handouts emailed to you as a PDF to use for future reference. Lastly, we'll sit down together to enjoy a tasty and filling meal. *See our covid-safe protocol below.
Check our
promo video
to see what a cooking class looks like.
More about Bhava Yoga:
Bhava Yoga Studio provides a mindful daily retreat where our community learns and explores the body-mind connection, aligning us for a balanced life in the modern world.  Bhava's studio is beautiful, giving students of all ages and levels of experience a space to practice and learn the discipline of yoga. They are located in downtown ABQ, but are lucky enough to have them join us on the farm to teach a class!
More about Cornelio Candelaria Organics Farm:
This historic farm is led by Lorenzo Candelaria, a 7th generation, Hispanic, Native American, farmer. Lorenzo is local-farm icon, as he loves to impart his teachings of sustainability and mindfulness to everyone who visits his farm. His famous line is that "they grow many crops on the farm, but harvest only one thing: consciousness". An experience on Lorenzo's farm is always special and unique.
The farm is located in the South Valley of Albuquerque (see below for address).
Who is this class for?
This class is for someone who wants a unique cooking experience. Our recipes focus on teaching you how to utilize and cook with seasonal produce, but it doesn't matter if you are a vegetarian, vegan, or carnivore – we all need to eat more plants!
Whether you're a beginner or more seasoned cook, everyone can learn from our classes. We always have extra staff who can help with additional instruction if needed.
If you have dietary restrictions, please let us know before class, and we can accommodate them!
Our covid-safe & food-safety protocol:
We are following the CDC's recommendation: if you are vaccinated, you don't need to wear a mask, but if you are not vaccinated, then you are required to wear a mask. Our classes are outdoors, which provides lots of great air ventilation. If the host farm has a specific safety protocol in place, we will be following their protocol.
We will have gloves and masks available at all classes. We will also be sanitizing all of our cooking surfaces and equipment. We will be minimizing the amount cooking equipment is shared between participants. If participants are not feeling well and need to cancel, see our policy below.
Our cancellation policy:
Cancellation: Should you need to cancel a reservation for this class, you will receive credit towards another class for any cancellation made four (4) days or more before the class date. Due to class prep-time and food purchases, cancellations made within three (3) business days of your class will not qualify for a refund or credit. The only exception is if you are sick, we can use our discretion. You must email us if you'd like to cancel and receive credit. Tickets are transferable, you can have someone come in your place, just please let us know.
Inclement weather: The Sprouting Kitchen reserves the right to cancel a class due to inclement weather or emergencies. If we need to cancel, we will notify you by email (and phone if possible) to offer you a credit towards another class or a full refund.