Crusted Winter Squash Wedges & All About Seeds
September 21 @ 6:00 pm

-

7:00 pm

MDT

$20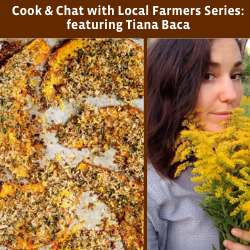 In this new series, we'll have our same engaging virtual cooking class, plus we'll have a local New Mexico farmer pop-in. They'll share about how being connected to our food & where it comes from can have profound effects on our own health, as well as our planet's future. 
Featuring: Tiana Baca, Tierra Luna Farm 
We'll discuss all things seeds: Why we should save them, plant diverse seeds & how to eat them. Tiana has been farming for nearly a decade and is the founder of Tierra Luna Seed Collaborative, providing regionally adapted seed to the Middle Rio Grande and fostering a community of seed conscious eaters. 
What will we be cooking?
We'll cut open a winter squash and learn how to save the seeds. Then we'll slice it into thin wedges and create a "crunchy crust" with breadcrumbs, parmesan, herbs & lemon zest. We will make a sour cream sauce to go on the side.
How does the class work?
Fallon (Registered Dietitian, avid cook, and owner of the Sprouting Kitchen) will lead the cooking portion of the class. Once you sign up for a class, you will get the recipe emailed you (please email if you need help with ingredient substitutions!). Our local farmer guest will be talking about a topic related to farming/sustainability!