How to Roast … Chicken y Mas!
March 7 @ 5:00 pm

-

6:30 pm

MST

$27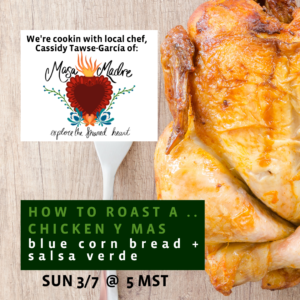 Featuring Guest Chef: ABQ-local chef, Cassidy Tawse-García of Masa Madre
Cassidy is many things, woven together by a love of food, the land from which it comes, and how we as people connect with each other. A self-taught cook, she grew up on an organic farm in Colorado, working at Farmer's Markets and her parent's farm-to-table catering company. As she continued cooking into adulthood her audience grew from complimentary friends at potlucks, to 400+ people enjoying her local and seasonally-sourced foods community events. Now making Albuquerque home, her newest venture, Masa Madre, is a personal cooking and sourdough micro-bakery that focus on relationships with farmers first. For Cassidy sourcing is everything, and a goof meal begins with knowing and loving your ingredients. Most of what she cooks today is inspired by her family, especially her great-aunt who hailed from Arroyo Honda, NM, as well as her trips and tastes through markets across the world! Masa Madre is the idea that food is more than eating. Eating is about building a connection with that which connects us all.
What will we be cooking?
Together, we will prepare the jewel in any home chef's pocket, a succulent and crispy whole-roasted chicken. Complete with the sides and sauces to make this a full meal
We'll make a classic cornbread, meaning there is no wheat flour or added sugar, but we'll mix it up by using blue corn! 
Then we'll make a vibrant green salsa packed with herbs, garlic, salt, and olive oil!

Whip up a batch and it will stay good for weeks in your fridge, and will be great on eggs, toasts, or just about anything else!
How does the class work?
Once you sign up for a class, you will get the recipe emailed you (please email if you need help with ingredient substitutions or do not receive the email). Then
gather your ingredients, meet us on zoom, and we'll cook the recipe together!
Other details: 
Classes will be recorded, if you cannot make the time or want the video for reference.
You only need to purchase one class per household.
If you cancel before 24 hours, we can provide a voucher for another Sprouting Kitchen cooking class.