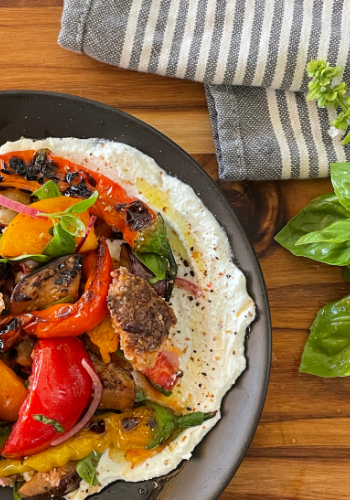 Summer Panzanella
The recipe is a classic, Italian dish that makes the most out of a crusty, stale piece of bread and the summer's best produce.
It's important to find the best tomatoes you can – you want them ripe and juicy. There is nothing like a local, summer tomato, so try to find some from a local market, store, or maybe your own (or a friend's) garden!
Classically, this recipe just used bread and tomatoes, but we're adding in some other summer goodies like eggplants and peppers. These are optional, and you could also add in some sliced peaches (grill them for bonus flavor) or cucumbers!
Summer Panzanella
Ingredients
2

pounds

(about 4-5 cups chopped of tomatoes)

cut into 1 1/2-inch wedges. Look for tomatoes that are juicy and ripe, like some high quality summer tomatoes!

1/2

teaspoon

kosher salt + extra for cooking/serving

1/2

lb

ciabatta, baguette, or rustic sourdough bread, cut or torn into 1 1/2–inch cubes (about 6 cups bread cubes).

Bread that is a couple day old, stale, and dry is best!

1/4

cup

olive oil

Plus more for cooking

1

shallot

or 1/4 red onion, minced (about 2 tablespoons)

1

medium garlic cloves, minced

(about 2 teaspoons)

1/8

cup

red wine vinegar

Depending on how acidic you'd like it
Optional veggies to add:
1

medium

eggplant

cut into 1/2 inch cubes

1/2

pound

frying peppers

(varieties like Jimmy Nardello, Italian frying, etc – look for peppers that are smaller with thinner skin than a bell pepper)

1/2

cup

basil

thinly sliced or chiffonade
For serving:
Fresh black pepper

About

1/2

cup ricotta cheese

Can also use mozzeralla cheese too
Instructions
Salt the tomatoes: Place chopped tomatoes in a colander set over a bowl and season with 1 teaspoon of of salt. Toss to coat. Set aside at room temperature to drain, tossing occasionally. Drain for a minimum of 15 minutes.

Make the croutons: Meanwhile, if your bread is not dry and stale, place it in a 350 degree oven for 10-15 minutes, until crisp on the outsides. Then mix the bread with 2 tablespoons of olive oil and cook another 5-10 minutes until crisp and firm but not browned. Remove from oven and let cool.

You can also saute the bread pieces with olive oil in a saute pan over medium-low heat until crisp and firm but not browned.

Saute eggplant: Saute the cubed eggplant over medium heat with about 1 tablespoon of olive oil and a pinch of salt. Stir and cook until eggplant has softened. Add a splash of water (about 1-2 tablespoons) to the pan if the eggplant starts to stick. Set aside.

Char peppers: Heat a medium saute pan (a cast-iron pan works great here!) over medium heat, and add just a teaspoon of oil. Add the frying peppers and let them cook for a few minutes, or until charred on one side. Flip and cook until charred all over. Set aside.

Make the dressing: Remove colander with tomatoes from bowl with tomato juice. Place colander with tomatoes in sink. Add shallot, garlic, and vinegar to bowl with tomato juice. Whisking constantly, drizzle in the 1/4 cup of olive oil.

Combine: Combine toasted bread, tomatoes, eggplant, peppers, and dressing in a large bowl. Add basil leaves. Toss everything to coat and season with salt and pepper. Let rest 30 minutes to 4 hours before serving, tossing occasionally until the dressing is absorbed by the bread.

Serve: with ricotta cheese and fresh black pepper.
Did you make this recipe?
Tag @thesproutingkitchen on Instagram and hashtag #thesproutingkitchen OR send us an email at Fallon@thesproutingkitchen.org with your recipe photo and feedback!