Fallon's Favorite Flavor Bombs!
March 21 @ 5:00 pm

-

6:30 pm

MDT

$27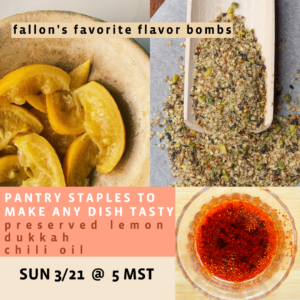 What will we be cooking?
We'll be making 3 recipes that will seriously level up your "condiment game". With these flavor bombs, suddenly a roasted potato or a fried egg can become restaurant-worthy good!
Preserved Lemons: We'll pack lemons with salt & spices, let them ferment for about a month, and then you'll have a jar of gold. It's like adding fresh lemon, but 10x better. It has that same acidity plus a depth of umami from the fermentation. Plus, you'll never have to worry about having lemons on hand, as this will last in the fridge for at least 6 months!
Dukkah: This Middle Eastern staple is made of toasted sesame seeds, ground nuts & spices. It adds flavor and texture to any dish. My go-to has been frying an egg in a bed of dukkah, so you get an egg with a crispy dukkah crust….oooooh yeah.
Chili Oil: We'll simmer oil, garlic, sesame seeds, and chili flakes until everything is lightly golden, aromatic, and just-crispy. This stuff is good on noodles, roasted veggies, eggs, leftovers, or really anything! Think hot sauce, but more textured and luxurious. We'll be making a simple version, but we'll also discuss how to make a more classic, Chinese chili oil.
We'll roast some sweet potatoes & top them with our new condiments (+ yogurt or tahini) for a delicious meal!
How does the class work?
Once you sign up for a class, you will get the recipe emailed you (please email if you need help with ingredient substitutions or do not receive the email). Then
gather your ingredients, meet us on zoom, and we'll cook the recipe together (aka a cook along)!
Other details: 
Classes will be recorded, if you cannot make the time or want the video for reference.
You only need to purchase one class per household.
If you cancel before 24 hours, we can provide a voucher for another Sprouting Kitchen cooking class.