When you think of pesto, what comes to mind? Your first thought is probably basil, and then maybe parmesan cheese and pine nuts. Yes, basil makes a delicious and classic tasting pesto, but I challenge you to think beyond basil!
Dream bigger than basil
As you'll see in the recipe, for the "greens" part of this pesto, you can really use any type of green- from arugula, to cilantro, to mustard greens. Essentially, if you have wilting greens in the fridge or come across an excess of greens from the farmers market or your backyard that you don't know what to do with – make pesto!
Dream bigger (and more cost effective) than pine nuts
The same goes for cheese and nuts – you can go beyond parmesan and pine nuts. I love the rich, nuttiness of pinons (pine nuts), but they can be rather pricy, so you can experiment with other nuts or even sunflower or pumpkin seeds! I've made pesto with students in an elementary school, and to avoid the nut-allergy issues,
When working with schools in the past, to avoid any nut-allergy issues in schools, I've I used sunflower seeds, and it came out delicious (and kid-approved!)
Time to break out that mortar and pestle?
And lastly, this recipe gives you the choice to use a mortar and pestle or a blender/food processor. If you have a mortar and pestle, use it – it will be worth it. For some reason, pesto made in one tastes better, and the flavors combine seamlessly. If not, no fear, your pesto will still taste great in a blender.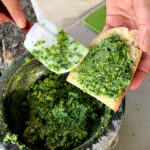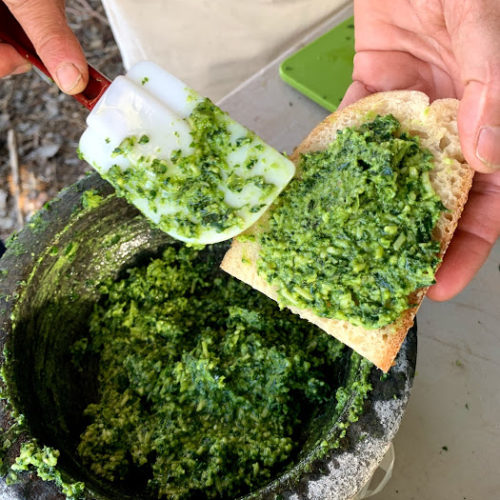 Print Recipe
Garden Pesto
Pesto that can be made with a variety of different greens!
Ingredients
2

cups

packed fresh greens

such as: basil, parsley, arugula, cilantro, quelites (spinach), kale, mustard greens, broccoli, watercress, etc!)

2

cloves

garlic

1/4

cup

nuts or seeds

such as: pinon (pine nut), pecan, walnut, almond, pumpkin seed, sunflower seed, etc

1/2 cup

cheese

such as: parmesan, cheddar, mozzarella, feta, cojita, etc

1

tbsp

lemon juice

1/2

tsp

salt

pinch

fresh black pepper
Instructions
If using a Mortar & Pestle
Start with garlic, nuts, salt, and pepper – mash & grind to a paste

Add a handful of greens and cheese; mash them until almost paste-like

 Squeeze some lemon as you go, to avoid the greens from turning dark

Continue adding greens, until all greens and cheese have been mashed until a smooth consistency

Add oil, and stir until it reaches a sauce-like consistency
If Using a Blender or Food Processor
Blend all ingredients, except oil, in a blender or food processor

Slowly drizzle in oil while blender is on low
To serve
Taste to see if you need to add anything!

Serve on pasta, bread, roasted vegetables, eggs, pizza, meat, poultry. fish, beans or dip your veggies into it!
Notes
We bought this 4-cup mortar and pestle to use in Sprouting Kitchen classes. It is big, which is great for making pesto! It is in the pictures in this post. Link to amazon to buy