What's in The Fridge (or Field) Fried Rice & Home Composting!
October 5 @ 6:00 pm

-

7:30 pm

MDT

$20.00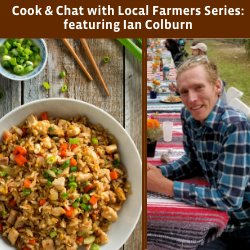 In this new series, we'll have our same engaging virtual cooking class, plus we'll have a local New Mexico farmer pop-in. They'll share about how being connected to our food & where it comes from can have profound effects on our own health, as well as our planet's future. 
Featuring: Ian Colburn, Solarpunk Farm
Composting is a small act that can have a major positive impact on climate change and decreasing waste. Composting at home can be tricky (and sometimes uh, smelly). Ian will teach us the basics about home composting and why it's so important!
What will we be cooking?
We'll learn the foundations of how to make a tasty fried rice – flavorful, textured and resourceful. Being able to whip together a quick fried rice is a great way to make use of veggies getting old in the fridge or just get a good variety of produce into your diet!
How does the class work?
Fallon (Registered Dietitian, avid cook, and owner of the Sprouting Kitchen) will lead the cooking portion of the class. Once you sign up for a class, you will get the recipe emailed you (please email if you need help with ingredient substitutions!). Our local farmer guest will be talking about a topic related to farming/sustainability!